Hochqualitative Fußbekleidung, die den Träger bequem und mit Stil erdet.
Groundals sind die neueste Generation der Erdungs- Schuhe mit einem Fußbett welches über die ganze Sohle die Erdung leitet. Sie sind aus einem speziell entwickeltem Material
TerraMater Footwear®
hergestellt, welche diese Erdung über den ganzen Fuß ermöglicht.
Die kleineren Größen haben ein Kunststoff-Riemen in 3 matten Farben: Silber, Schwarz oder Gold.
Die größeren Größen haben ein Stoff-Riemen in Rot, Orange / Grau oder Lila / Grün.
Bitte klicken Sie auf das linke Bild zur Vergrößerung.
Anatomisch geformtes Fußbett mit voller Oberflächenleitfähigkeit

TerraTread™ mit griffiger Sohle und hoher Belastbarkeit

Langlebiges TerraMater Footwear® Material

Waschbar, mit Seifenwasser

Hohe Qualität, in Amerika hergestellt


Mehr Information hier im Produktvideo
Bitte beziehen Sie sich auf die untere Tabelle um die richtige Größe zu wählen:
| Größe | UK | Europa | USA | Australien | Fußlänge |
| --- | --- | --- | --- | --- | --- |
| S | 2-3 | 34-35.5 | 4.5-5.5 | 3-4 | 217-225mm |
| M | 3.5-4.5 | 36-37.5 | 6-7 | 4.5-5.5 | 229-238mm |
| ML | 5-6 | 38-39 | 7.5-8.5 | 6-7 | 242-255mm |
| L | 6.5-7.5 | 40-42 | 9-10 | 7.5-8.5 | 255-263mm |
Um die gewünschte Größe zu bestellen, drucken Sie sich bitte die Gröenßtabelle aus:
| | | | |
| --- | --- | --- | --- |
| Größe S | Größe M | Größe ML | Größe L |
Wichtiger Hinweis: Beim Ausdrucken des Größentabelle achten Sie bitte darauf, dass Sie keine der Druckoptionen "Maßstab festlegen", "verkleinern" oder "anpassen" wählen. Nachdem Sie das Dokument ausgedruckt haben, sollten Sie ein Lineal benutzen um zu kontrollieren ob die gedruckten Maße mit Ihrer Größe übereinstimmen.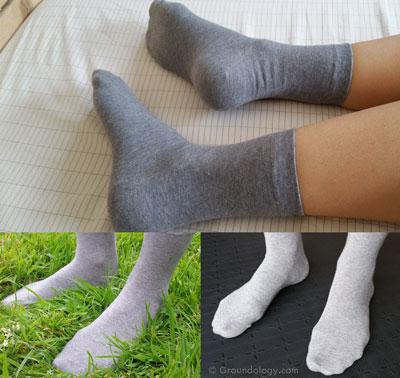 Premium quality conductive socks with the highest silver content on the market. This means they are highly conductive, with strong anti-bacterial properties.
They will ground your body while keeping your feet warm, when:
standing on a grounded surface like outside,

placing your feet on a grounding mat,

sleeping on an earthing sheet,

used with a heel strap (which transforms any shoe into a grounding shoe).

Silver has the highest reflectivity rating of any metal element which means it reflects external electromagnetic frequencies, but also reflects heat from the body (infra-red radiation) back towards the skin. This means the socks feel warm in cold conditions, while still being lightweight and ultra comfortable to wear.
Do not confuse our Grounding Socks with other cheaper 'silver socks' on the market – most of them have a very low silver fibre content. Our socks have the highest silver content on the market (22% silver fibre). Composition: 50% cotton, 25% nylon, 22% silver fibre, 3% spandex.
The socks are light grey in colour (the colour variation in the photos is due to different lighting conditions).
Please refer to the table below to choose the correct size:
Size
Women's sizes
UK
Europe
USA
Australia
M
5-8
38-42
7-10
6-9
L
9-12
43-47
11-14
10-13
Size
Men's sizes
UK
Europe
USA
Australia
M
5-8
38-42
5.5-8.5
5-8
L
9-12
43-47
9-13
9-12
Washing and care instructions
DOs
Wash in a washing machine with warm water (40°C / 105°F)
Use a liquid laundry detergent
Line dry or dry in a dryer on low (up to 65°C / 150°F)
Can be ironed on a low heat if desired
DON'Ts
Don't wash with bleach
Don't wash with fabric softeners
Don't use whitening detergents, oxi-detergents OR detergents with oils like lavender
Don't use dryer sheet fabric softeners
Don't dry clean
Bleach, lotions and oils can tarnish the silver rendering it non conductive. Fabric softener builds up on the silver and also ruins its conductive properties.
If using lotions or oils on your feet, it is advised to wait one hour before wearing the socks.

This heel strap converts any shoe into a grounding shoe. You will then be grounded when standing on any conductive surface, such as grass, earth, sand or concrete.
Simply slip the conductive rubber heel strap over the outside of the sole of your shoe, securing with the adjustable quick-release strap, and then tuck the conductive ribbon into your shoe or sock to connect with your skin.
Wearing our
highly conductive grounding socks
with your heel strap improves the connection to your skin and also means you only have to tuck the conductive ribbon into the top of your shoe, rather than inside your regular sock.
One heel strap (grounding through one foot) is enough to ground your entire body, especially when used together with a grounding sock.